06/27/2012 - Update Information:

If you are seeing the following error:
[02:37] CCS Sim Owner Payment System: Touched.
[02:37] CCS Sim Owner Payment System: No items are posted
[02:38] CCS Sim Owner Payment System: The payment system returned an unexpected error code: INVALID_AMOUNT
[02:38] CCS Sim Owner Payment System: Session finished, terminal resetting

This is because the New Payment System is not yet activated on the database, so your sims are not currently registered under NPS.

NPS will be turned on on at midnight on July 2nd, the first payment date under the new system will be August 1st, to allow people that have their meters paid into July the full month of their service before the NPS drafts payments on the 1st of August.
---
Hey folks, heres a quick overview of the new CCS Payment System, how it works, and how its going to save you, me and everyone else a lot of time. The new system allows you to personally own your payment meter, and communicates directly with the CCS database to get its information on when your payment is due.
Primary features of convenience are:
- No further need for payment meters placed by CCS administrators.
- The Payment System when rezzed and registered with the server will make payments for all sims you are the owner of, requiring only one payment computer even if you own 20 sims.
- The Payment System will automatically make your CCS Payment for you on the 1st Day of every month without you needing to interface with it at all.
- The Payment System will allow you to make pre-payments for service for up to four months, pre-empting any need for auto-debiting a monthly payment for the duration you have paid.
- You can't accidently return it, and even if you do, you own it so you can place it right back out.
- Easily blends in with home furnishings and other home decor, low prim mesh design.
- Can be placed anywhere! (Does not need to be rezzed in a CCS active sim to manage the CCS sims you own).
- No Mod/Copy/No Trans permissions.
The New CCS Payment Meter - You Own It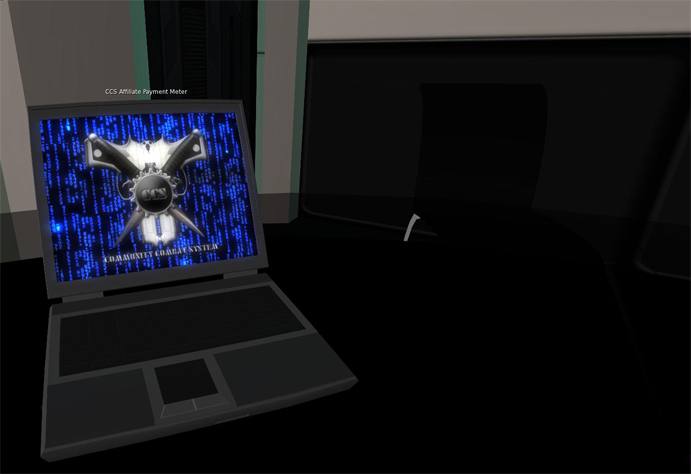 On Rez Debit Permissions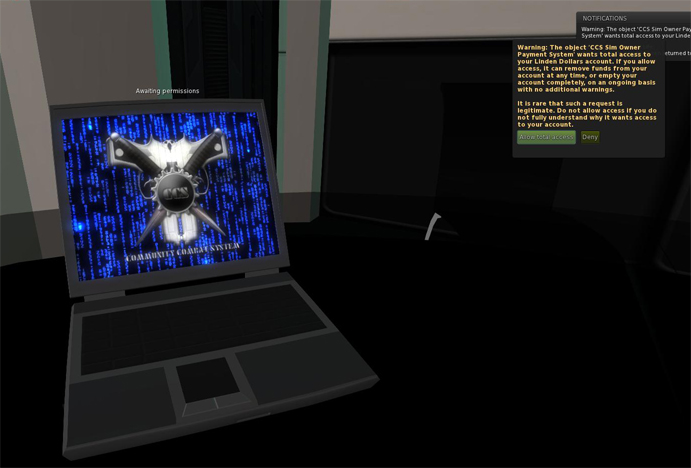 This is simply informing you that by agreeing to the debit permissions, this object will automatically debit payments from your Linden Dollar Balance on your payment due date. The CCS Payment System will
NEVER
automatically debit more than L$4500 per sim that you own. So if you own one sim, the object will only automatically debit L$4500 on the first day of the month from your Linden Dollar Balance.
If you do not have have L$4500 in your Linden Dollar Balance on the 1st day of the month, the payment attempt will fail, and your sim will temporarily be deactivated and you will need to contact CCS Administration to reactivate the sim after the payment failure is fixed.
Pre-Payment Menu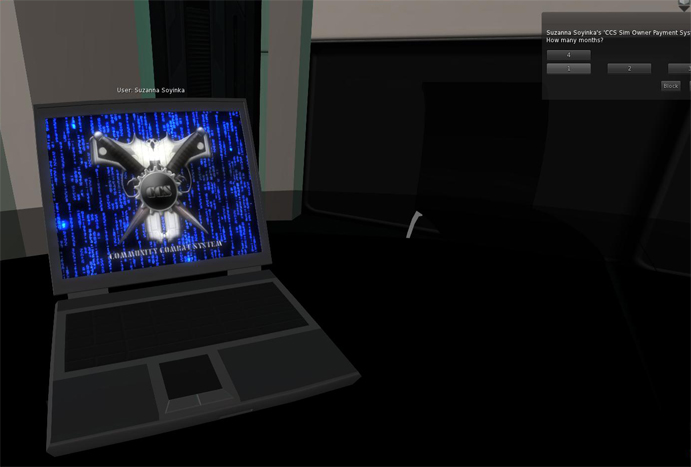 This will ask you if you want to make a pre-payment. Pre-payments allow you to pay your CCS payments ahead of time for up to four months, just like the current CCS payment meters. Pre-payments are not compulsory, you may make them if you feel the need or wish to pre-pay in advance. Otherwise simply leaving the payment system rezzed with automatically make payments for all the sims you currently own on the first day of the month every month.
Sim Ownership Menu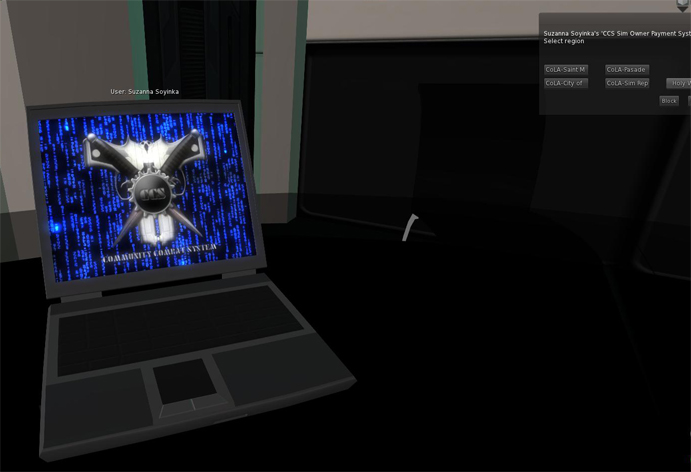 The above shows the pre-payment sims list, this is basically pulling a list of all your active CCS sims that are on the New Payment System. All CCS Sims will be switched over to the New Payment System on the 1st of July, 2012, any sim that has not made payment for service by August 1st, 2012, will be deactivated.
Sim Owners should contact me or She Juniper between now and the 1st of July to get their new Payment Systems, and to ensure we've got your regions set up with the right owners specified.
Feel free to also ask questions in the
forum thread related to this update!